Surgical Box VEGA | VEGA+
Two philosophies, one box
The VEGA surgical Kit contains all the items you may need for the placement of the VEGA and VEGA+ implants. Marked with an alphanumeric and colour code, you will find all the drills, profilers, adapters and drivers needed for VEGA family implant placement and restoration.
Surgical Box VEGA | VEGA+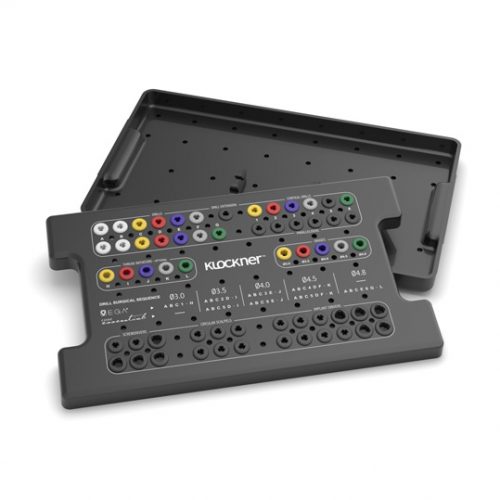 What can I find in the box?
Different colour-coded diameters, matching the colour of the various implant diameters, for easy identification of the final drill.
The thread initiator allows you to tap the thread of the implant. It is normally used for the entire length of the implant in cases of bone type D1 and D2. In bone type D3 and D4, only a cortical tap is necessary.
Profile Drills are used to drill the cortex and protect it from unwanted tension or compression during implant placement.
Alignment pins have a double function. They help you to measure the drilling depth and allow you to check the insertion axis being drilled.
Manual and contra-angle handpiece adapters
Both manual and contra-angle handpiece adapters will take the implants directly from the Non-Touch package and bring them into the mouth for placement.
The box includes all the drivers for the VEGA | VEGA+ system. They can be used to place all the healing caps, attachments and abutments.
In the lower part of the tray, you will find the torque wrench for manual implant placement or screw tightening.
The box has spaces that you can fill with other equipment that does not come in its most basic form. In this way, you will be able to customise your box by adding longer drills, alignment pins, gauges and other items. By placing a few other drills, you can turn your VEGA | VEGA+ surgical Kit into a versatile Kit suitable for the placement of the Essential Cone implant.