 The bonering technique is designed as a cylindrical graft surrounding the implant, providing suitable implant-graft stability and ensuring an optimal amount of bone.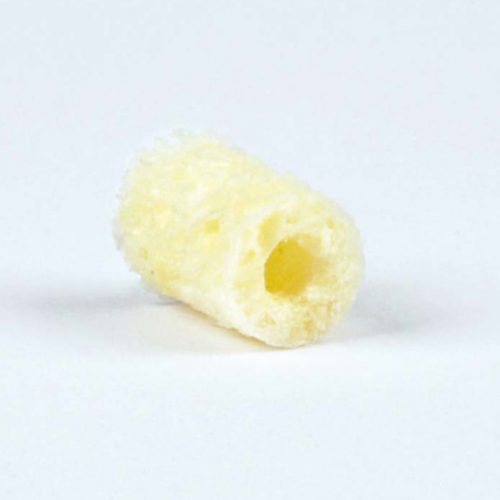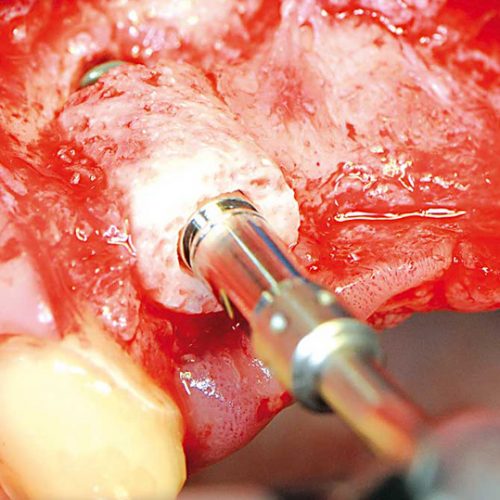 Natural and safe mineralised collagen
The purification process maintains the structural characteristics and the interconnected macroporosity of human bone. Maxgraft also retains its collagen matrix, so this product is composed of 70% mineral phase and 30% organic phase. Furthermore, the certified production process at Cells+Tissuebank Austria (C+TBA) guarantees the highest safety standards.
Maxgraft boning allows simultaneous bone augmentation and implant placement. The immediate placement of implants ensures the primary stability of the implant and the ring. The spongy bone ring is fitted into the bone bed after preparation with a trephine and then the implant is inserted into the ring. The integration of both occurs through the surrounding living bone tissue.
Because the bone regeneration and implant placement are performed simultaneously, treatment times can be reduced considerably, sometimes allowing for fewer surgical procedures.
Maxgraft bonering surgical kit
Botiss biomaterials offers all the instruments needed to perform the maxgraft bonering technique. These instruments are specifically designed to adjust the size of the receiving bed and the bone graft block, ensuring a maximum contact surface of the graft with the patient's bone, as well as the closest contact of both, facilitating revascularisation and immobilisation of the bone graft block.
- Bone regeneration for vertical and horizontal augmentation.
- Post-extraction alveoli.
- Treatment of tooth gaps.
- Maxillary sinus lift.
*Botiss biomaterials product distributed by Klockner S.A. in Spain and Portugal