 The universal connection with KLOCKNER essence
KL is a universal external connection implant compatible with other brands with the same connection that brings together the best features of our brand: surface, design and machined transmucosal collar by KLOCKNER.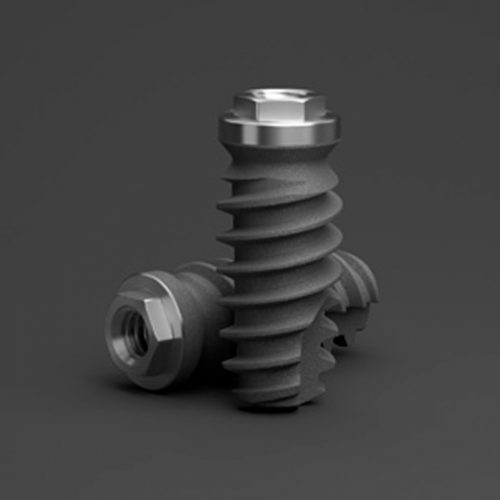 Surgical post designed by KLOCKNER
The design of the surgical post, combined with its drilling sequence, offers an easily inserted implant with high primary stability, even in low density bone.
The KL implant offers two different designs: an implant with no collar and an implant with a 0.7-mm machined collar to meet the various needs of professionals.
The surface hardness of the titanium is increased through the blasting of aluminium oxide particles. Acid passivation protects the implant from ion exchange with the environment and, therefore, from corrosion of the material. All this increases the implant-bone contact surface and the fatigue resistance of the material, as well as encouraging the proliferation and growth of osteoblasts*.
*A. Rodríguez-Hernández, E. Espinar, J.M. Llamas, J.M. Barrera, F.J. Gil. Alúmina shot-blasted particles on commercially pure titanium surfaces prevent bacterial attachment. Materials Letters 92 (2013) 42-44
OPTiMUM, the new generation titanium
The development of the new titanium has made it possible to increase the elastic limit and improve the mechanical properties by 64%*. As a result, KLOCKNER offers a narrow surgical diameter with a narrow platform (3.5 mm).
*R.A. Pérez, J. Gargallo, P. Altuna, M. Herrero-Climent, F.J. Gil. Fatigue of Narrow Dental Implants: Influence of the Hardening Method. Materials 2020, 13, 1429
The best tolerances on the market
The KL implant, following KLOCKNER standards, is manufactured with the tightest implant-prosthesis tolerances on the market.